Pre-Raphaelite Women, Art, & Poetry, Part E
Pre-Raphaelite Women
The Brotherhood Gallery
INDEX
Aubrey Beardsley
Walter Crane
Kay Nielsen
Arthur Racklam
Elihu Vedder
Brotherhood Artists
The Favorite Poet by Alma-Tadema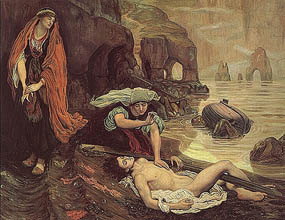 The Finding of Don Juan by Haidee
by Ford Madox Brown

Romeo and Juliet
by Ford Madox Brown

"Take your Son, Sir!"
by Ford Madox Brown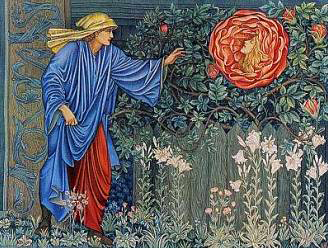 Pilgrim in the Garden, or The Heart of the Rose
by Edward Burne-Jones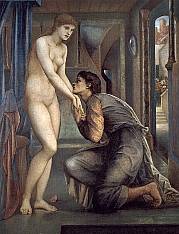 The Soul Attains
by Edward Burne-Jones
Depths of the Sea
by Edward Burne-Jones
The Mirror of Venus by Edward Burne-Jones
The Wedding of Psyche by Sir Edward Burne-Jones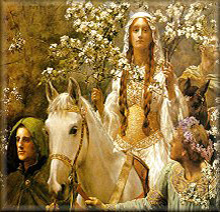 Guinevere A-Maying [detail]
by John Collier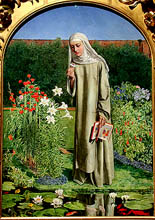 Convent Thoughts
by Charles Collins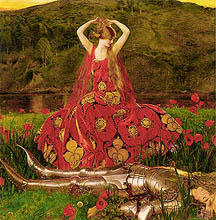 La Belle Dame sans Merci
by Frank Cadogan Cowper
(plus Keats' poem).
Medusa by Jean Delville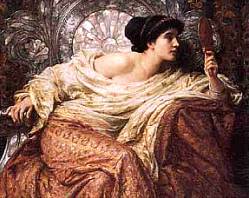 The Offering by Sir Frank Dicksee
Ophelia and He Will Not Come Again
by Arthur Hughes
See also my Ophelia Page.

The Awakening Conscience
by William Holman Hunt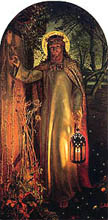 The Light of the World
by William Holman Hunt
Fanny Holman Hunt
by William Holman Hunt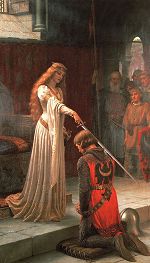 The Accolade
by Edmund Blair Leighton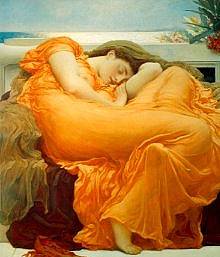 Flaming June by Frederic Leighton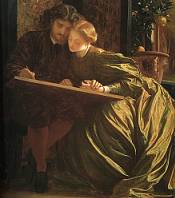 The Painter's Honeymoon
by Frederick Leighton
Charles Rennie Mackintosh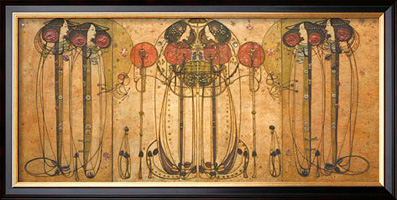 Wassail by Charles Rennie Mackintosh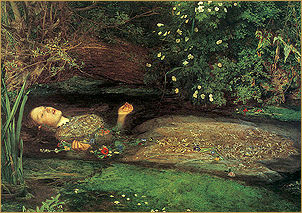 Perhaps the most famous PR painting:
Ophelia by John Everett Millais
See also my Ophelia Page.

Praising Angel
[detail of stained glass window]
by William Morris
Dante Gabriel Rossetti--images/information on my web page "Pre-Raphaelite Women, Part A." See Rossetti's "Lilith" image in left column of this page.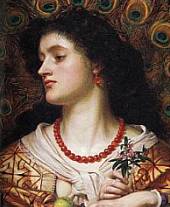 Vivien by Anthony Frederick Sandys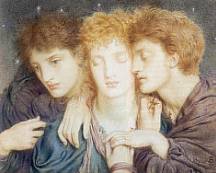 The Sleepers, and the One that Watcheth
by Simeon Solomon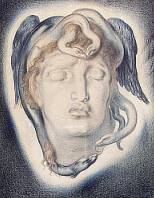 Medusa
by Simeon Solomon

Angel of Light
by Simeon Solomon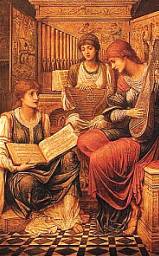 Gentle Music of a Bygone Day
by John M. Strudwick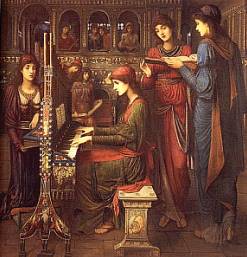 Evensong by John M. Strudwick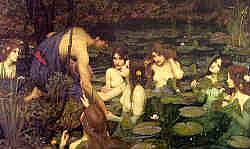 Hylas and the Nymphs by John Waterhouse
Ulysses and the Sirens by John Waterhouse
Galahad
by George Frederick Watts
Pre-Raphaelite Illustrators (Male)
NOTE: There are many links to King Arthur illustrations on my King Arthur
web page. See also my seven-page Arthurian Legends Illustrated.
Chapter designs by Aubrey Beardsley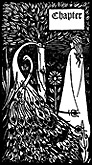 King Arthur illustration by Beardsley
Beauty and the Beast by Walter Crane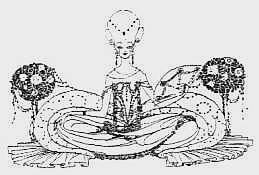 Illustration by Kay Nielsen
Undine by Arthur Rackham
Cup of Death by Elihu Vedder
So when the Angel of the darker Drink

At last shall find you by the river-brink,

And, offering his Cup, invite your Soul

Forth to your Lips to quaff -- you shall not shrink.
(Fitzgerald's Rubáiyát of Omar Khayyám)
Go to Pre-Raphaelite Women, Art, & Poetry Resources
Return to Index: Pre-Raphaelite Women, Art, & Poetry
Related Resources:
PR Models, Lovers, Art-Sisters
PR Literature & Art: Resources
Painting, left margin: "Lady Lilith" by D. G. Rossetti
Return to Nichols Home Page
Comments/Suggestions: knichols11@cox.net
Updated: 2-14-17
Background set by Dana Lea's Graphics