Possible course ideas for my co-edited collection
The Emerging 'New Woman':
American Women's Short Stories 1865-1917
Edited by Kathleen L. Nichols and Charles G. Waugh
(Sam Teddy Publishing, 2014).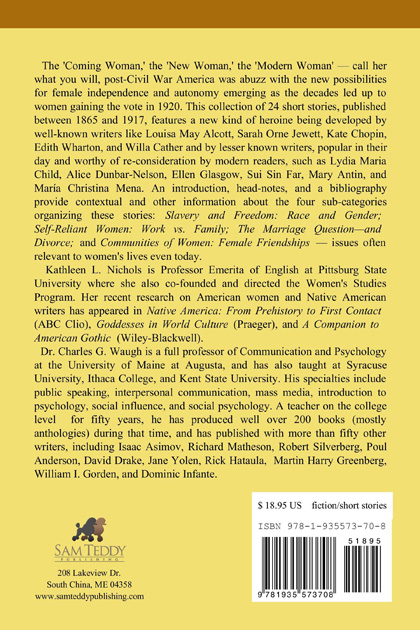 General Education Short Story Course:
Introduce the short story by using selected texts available online, or in cheap Dover editions, of Poe or Hawthorne. Then focus on the Emerging Woman theme in my co-edited collection for a good portion of the course, and supplement the last part of the course with more contemporary writers, male and female, including Native American, Black, Asian, and Latino for a more multi-cultural emphasis, or, if a more international flavor is preferred, a modern collection of stories from a number of different countries.
Topics course (300-level) on Women's Short Fiction--The 'New Woman':
Combine my co-edited collection with a more contemporary short fiction collection by women and trace the development of the New Woman idea over the 19th and 20th centuries. To expand the scope, combine my co-edited collection with a collection on British 'New Woman' short fiction or an international collection of modern short stories by women from many countries.
The 'New Woman' in American Women's Literature:
Combine my co-edited collection with several novels, drama, and poetry developing a similar theme in American literature. For novels, I would recommend Kate Chopin's The Awakening and Zora Neale Hurston's Their Eyes Were Watching God--well-liked by most students. And add one or more contemporary novels or essays by minority women writers, such as Louise Erdrich's Tracks or Maxine Hong Kingston's "No Name Woman." Or perhaps select a contemporary short story sequence/cycle like Sandra Cisneros's Woman Hollering Creek and Other Stories. Dramas like Josefina Lopez's Real Women Have Curves and/or Suzan-Lori Parks's Venus would also fit into such a course. And if more genres are desired, you could add some Sylvia Plath poetry (students are also fascinated by her biography) plus some more contemporary poets who particularly play with gender themes (Adrienne Rich's "Aunt Jennifer's Tigers," for instance, or any number of poems by Marge Piercy, Mary Oliver, Rita Dove, Lucille Clifton, Paula Gunn Allen, etc.).
Part of an upper-division American Realism/Naturalism course:
Although most Realism courses will include novels by Chopin, Wharton, James, and Dreiser which feature aspects of the "new woman" themes, the topics of the new independent woman and related gender issues become much more clear in a number of the short stories written during the realistic period--which is exactly what my co-edited collection of New Woman fiction features front and center. The alternate hopes and fears of this emerging modern woman--her hesitancies, her yearnings--become much more apparent in this wider "sampling" of the literature of the period. Do not eliminate beloved masterpieces like The Awakening from the course, but add to the focus of the class discussions by using my selection of short stories by American women writing on the emerging 'new woman' during the realistic period of American literature.