Cassatt's 'Modern Women' Motif
1893 Chicago World's Fair and Exposition
Continued--page 2


This Page:
Women Plucking the Fruits of Knowledge
Women Playing the Banjo
The Contemplative Woman


Women Plucking the Fruits of Knowledge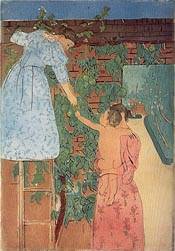 The Kitchen Garden, 1893
Color print based on the
central panel of the
Modern Woman mural.
O Taste and See

The world is
not with us enough.
O taste and see

the subway Bible poster said,
meaning The Lord, meaning
if anything all that lives
to the imagination's tongue,

grief, mercy, language,
tangerine, weather, to
breathe them, bite,
savor, chew, swallow, transform

into our flesh our
deaths, crossing the street, plum, quince,
living in the orchard and being

hungry, and plucking
the fruit.


Denise Levertov 1971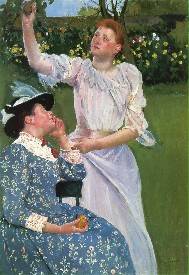 Young Women Picking Fruit
1891/92, Oil painting.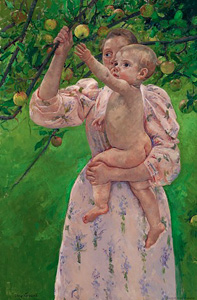 Baby Reaching for Fruit
1893, Oil painting.

Women Playing the Banjo
"Music" in the right panel of the mural was represented by a woman playing a banjo, the popularity of which in the 1890s probably gave a very contemporary edge to the image, especially when compared to centuries of classical lyres or harps held by goddess-like "musica" figures. The blue modeling of the flesh tones in the banjo pastel on the right may give us some idea of what the mural critics meant by describing Cassatt's colors as vivid or even too intense. As even a recent sympathetic scholar has noted about the banjo pastel, "the color is so intense as to be shocking in its departure from literal realism."
The Banjo Lesson 1893
Color print based on the
right panel of her mural design.
The Banjo Lesson
1893/94, Pastel on paper.
Study for The Banjo Lesson ("The Two Sisters") c. 1894
Pastel on tan wove pumice paper, mounted on cardboard.

The Contemplative Woman
The zinnia oil painting on the left is evidently a development of her mural theme (same outdoor setting, modern clothes, and powerful but homely model), but this time in a solitary and meditative mood rather than a socially festive one. However, note the same mood and gestures in the pastel on the right which places the contemplative woman in a public social setting. The pastel also exhibits Cassatt's unusual colors, with green molding of the flesh tones in this case. (Note that the concentration of the banjo woman above also fits the contemplative woman category.)
Woman with a Red Zinnia
Oil painting, 1892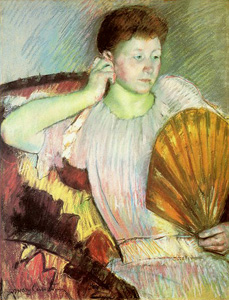 Clarissa Turned Right with her
Hand to Her Ear, Pastel 1893.


Mary Cassatt Links:
Mary Cassatt: The Modern Woman--biography and 7 images of well-known paintings
Mary Cassatt--commentary and links to 28 images.
Mrs. Robert S. Cassatt--c. 1889.
Faces of Impressionism--review article with 5 excellent images (including Portrait of a Woman, 1872).
Mary Cassatt (Olga's Gallery)--many, many images.
The Boating Party--image.
Self-portrait--image.
Mary Cassatt: First Lady of Impressionism--biography and links to 5 images.
Mary Stevenson Cassatt--Spanish image; good background on her early Spanish phase.
Mary Cassastt (WebMuseum, Paris)--excellent introduction.


Go to Cassatt as Post-Modernist?
Return to Cassatt's Lost Mural, p. 1
Return to Site Index


These pages are for educational use only.
Text written by K. L. Nichols
Painting, top of page: Selection from the central panel of
Mary Cassatt's Modern Women Mural (1893)
Return to Nichols Home Page
Suggestions/Comments: knichols11@cox.net
Posted: 6-25-02; Updated: 5-2-20