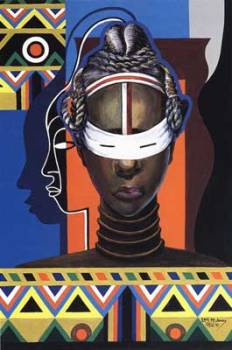 Lois Mailou Jones, Initiation, Liberia
"Ain't I a Woman?"
Slavery and Freedom Literature
(Part B)
INDEX
Part A: Abolitionist and Slavery Literature
Part B: Neo-Slave / Freedom Literature


Part C: Resources: History,Theory,Topics
Neo-Slave and Freedom Literature
Lois Mailou Jones, Ethiopia Climbing
James Baldwin
Baraka, Amiri (LeRoi Jones)
Gwendolyn Brooks
Charles Chesnutt
Michelle Cliff
Paul Laurence Dunbar
We Wear the Mask
We wear the mask that grins and lies,
It hides our cheeks and shades our eyes,­-
This debt we pay to human guile;
With torn and bleeding hearts we smile,
And mouth with myriad subtleties.

Why should the world be over-wise,
In counting all our tears and sighs?
Nay, let them only see us, while
We wear the mask.

We smile, but, O great Christ, our cries
To thee from tortured souls arise.
We sing, but oh the clay is vile
Beneath our feet, and long the mile;
But let the world dream other-wise,
We wear the mask!
by Paul Laurence Dunbar
Ralph Ellison
Study Aids: Invisible Man
Novels: Reviews, Scholarly Articles
Short Stories and Essays
Harlem Renaissance Writers
Robert Hayden
Pauline Hopkins
Langston Hughes
Zora Neale Hurston
Short Stories
Their Eyes Were Watching God
Other
Charles Johnson
Audre Lorde
Clarence Major
Paule Marshall
Toni Morrison
Beloved
The Bluest Eye
Sula
Tar Baby
Song of Solomon
Jazz
Paradise
Other
Gloria Naylor
Ishmael Reed
Ntozake Shange
Alice Walker
In Search of Our Mothers' Gardens
Short Stories
Female Genital Mutilation
The Color Purple
Other
Richard Wright
Native Son
Other
Go to Ain't I a Woman, Part C
Return to Nichols' Home Page
Background set by Namaste Designs; Artwork by Keith Mallett